The road show in Media Buying offices for the launch of the new Paramount Channel branded Viacom.
Really, really, ridiculous good-looking!
Once again, the headquarters of the major media buying offices of Milan and Turin and a selected location in Rome (the home of cinema) were the backdrop for the Viacom International Media Networks Italy Roadshow for launching Paramount Channel (Channel 27); a channel dedicated to movies and TV series. "A new editorial product, characterized by a fresh and original mark, a point of reference for all those who are looking for quality narratives, adding to the linear view also the opportunity to experience and enjoy digital experiences." On their arrival in the office, planners founded two models wearing tuxedos for a surprising entry as real stars on an iconic red carpet. The elevators, branded with cult titles, continued what we call "environments domination".
The performance of the best Blue Steel of the day was the challenge that we asked to all "Derek Zoolander for a day." Seventies shirt and strip and all the art of a movie expression to try to win the prize offered by Viacom. Participation was shameless and very high.
Popcorn, marshmallows and coke not miss, as in the best movie theater, during the publisher and the Adv agency formal submission; more than 500 TV planner took part.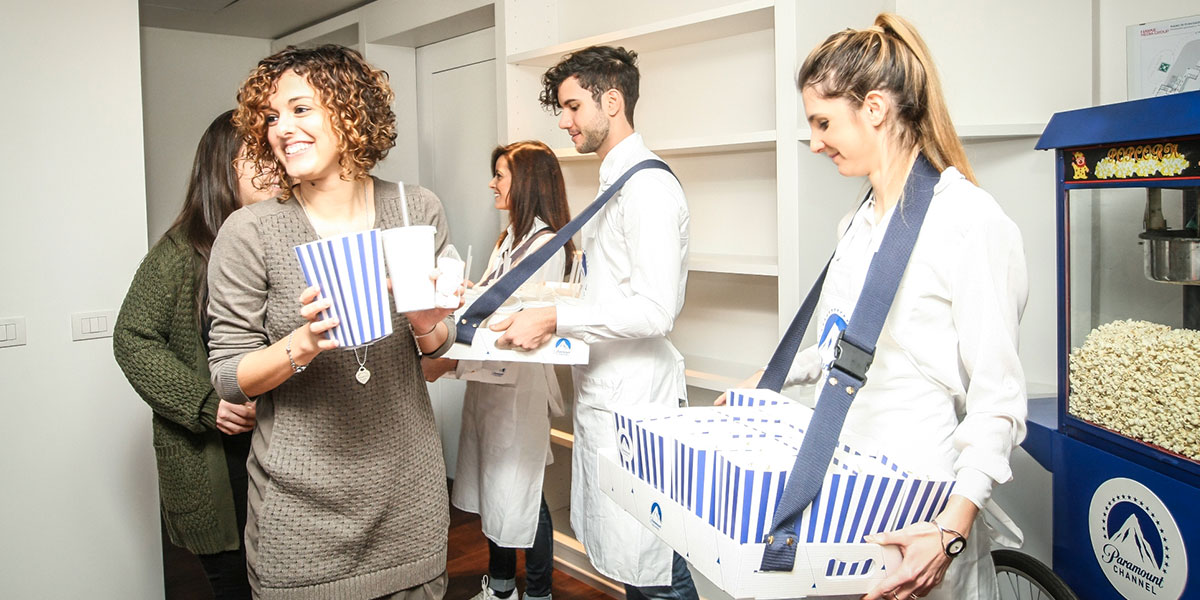 Happy ending as the best stories. A viewing kit containing fleece blanket, a porcelain mug, chocolates and a DO NOT DISTURB sign .. Ready for the classic movie and TV series marathon on the sofa!